Something I love about drawing these by hand is that little details like the colored pencil sparkles up top feel so much more special. (I should start using actual glitter at some point, bust out them craft supplies.)
You can see some of these originals IN PERSON this weekend at Bmore Into Comics in Baltimore! We're doing a big benefit for my extraordinary friend (as well as the Bmore Into founder), fellow cartoonist Monica Gallagher, to help her cover her bills as she goes through chemo.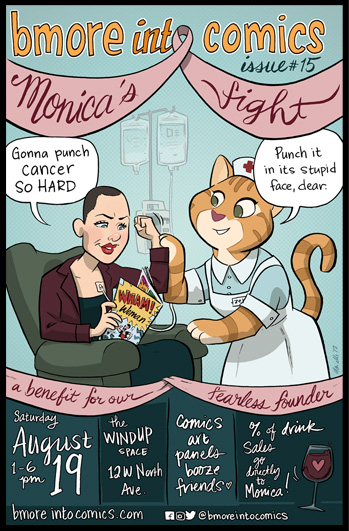 I'll be selling off a few roller derby-themed GWS original strips in her honor (in case you're not familiar, Monica does the derby-themed strip Bonnie N. Collide, Nine to Five), proceeds going direclty to Monica, as well as the original for the poster above. A percentage of drink sales will go toward Monica, as well! (YES THIS SHOW IS AT A BAR)
If you're around Baltimore this Saturday, come out to The Windup Space between 1 and 6 pm, and join us for a good cause!